Pointe West Golf Club….Creating Memories to Last a Lifetime…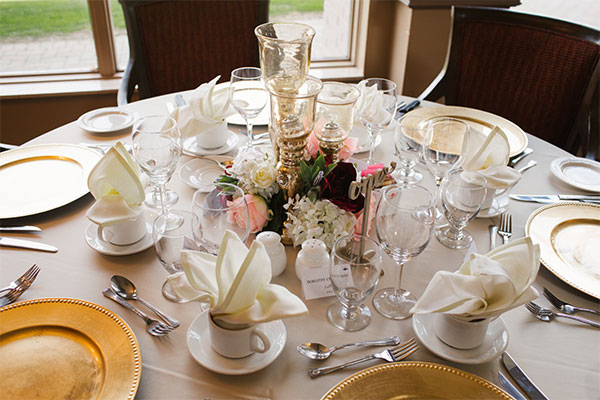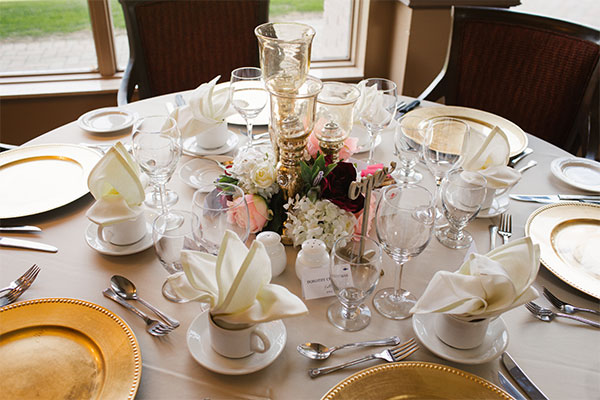 Though "Golf" may be our expertise, our Dining is second to none! Pointe West is pleased to offer Banquet and Catering Services and our open concept Clubhouse design and Dining Room can accommodate 180 Guests; the perfect venue for hosting Tournaments, Weddings, Showers, or Gala Dinners.
The spectacular Patio overlooks the 18th Green, offers views unsurpassed in Essex County and is the "perfect place" for an Outdoor Wedding Ceremony or Cocktail Party.
The Club's experienced Staff are pleased to customize a menu and agenda to suit your requirements.
Summer Dining Menu
Dining and Catering…With Views almost as Stunning as the Bride….
As a Private Club, Pointe West is only available to its Members and their Guests for regular dining. However, the Club does offer "Social Dining Memberships" which are now more attractive than ever! To learn more about our Social Dining Membership, please click on the Membership Tab or contact Loriann in Member Sales & Services at admin@pointewestgolf.com or by telephone at: 519-736-8623 Ext 14…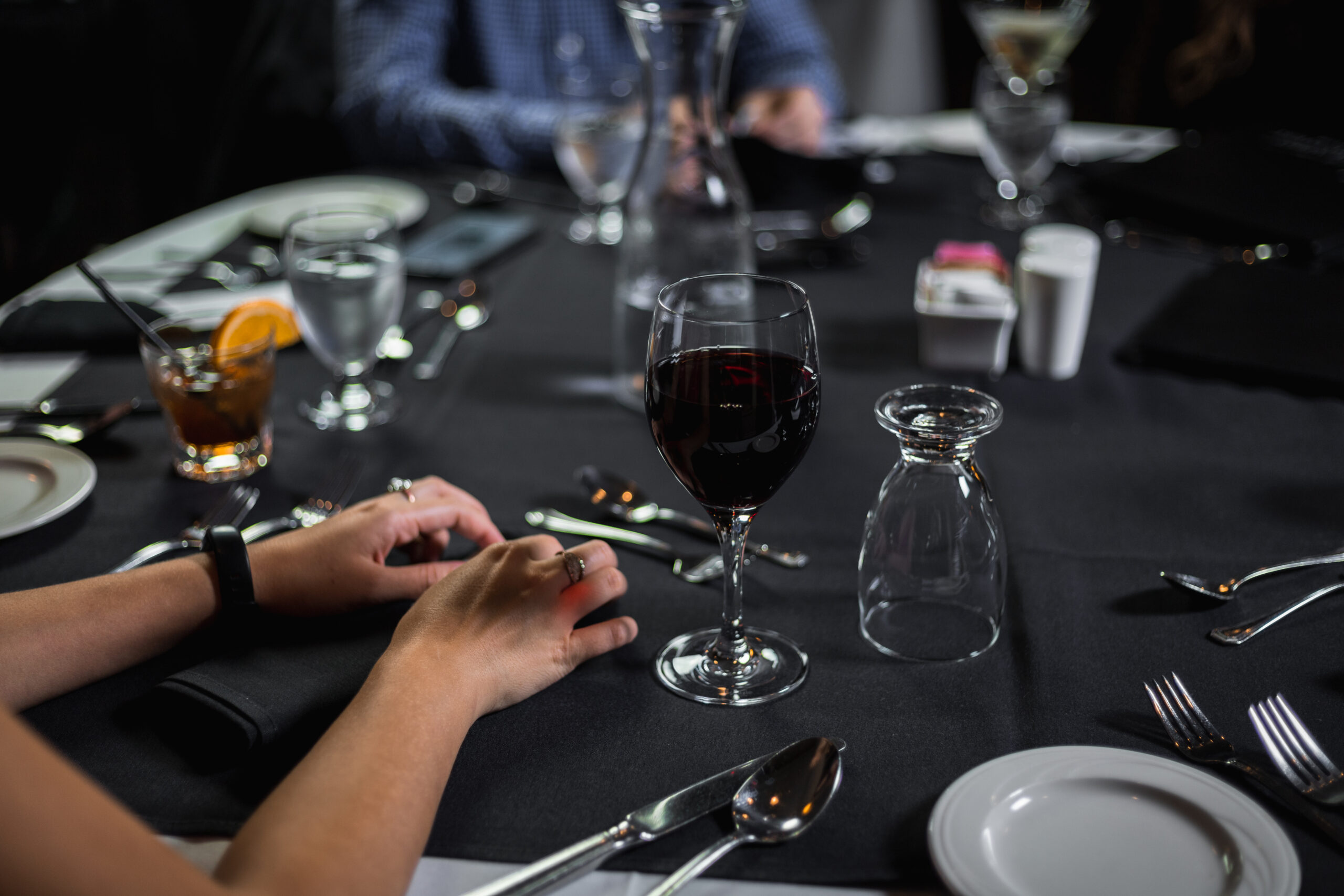 For private events, the Club's Catering Package is certainly just a starting point. Executive Chef, Dana Friis can customize a Menu based on all tastes and budgets! At Pointe West Golf Club we are happy to accommodate any dietary restrictions or food requests. Please click on the button below and start planning your Dining Event!
Event Planning Guide 2023
Wedding Ceremonies and Receptions
Pointe West understands how stressful a Special Event can be, but we're here to make is easier for you with helping you create and allowing your vision come to life.
We truly believe Pointe West Golf Club offers a truly unique Wedding location experience. From an Outdoor Wedding Ceremony on the covered Patio overlooking the Signature 18th Hole, to an intimate single level Banquet Room which allows you and yours Guest to enjoy the ease of being together in one beautiful room. But it doesn't end there, Pointe West offers the perfect location for any photography to capture those forever moments.
Connor Lauzon, our Clubhouse Manager, will assist you with every step along the way. From choosing a delectable menu to working through all the details of your special day. Please contact Connor at clubhousemanager@pointewestgolf.com for additional information.
"Since 2014 we have been hosting the Windsor Goodfellows Golf Tournament at Pointe West, each and every year we have been impressed with the great service from Rick and his team in the Pro Shop. We have been fortunate to always have a beautiful day with no glitches in service from the Pro Shop."

Brian & Mary Lynn Parent

Managing Director, Families First Tribute Centre
"The best part of getting married at Pointe West Golf Club was not having to worry about things going wrong, as we knew they would make sure that everything went well and they delivered! Our guests said the venue was beautiful, the food was great, and the servers were very helpful. The planning process was as easy and smooth as possible, and in the end our day was perfect. They were very professional and accommodating. We have no complaints. The day was memorable as well, since we were able to take a photo with all of the guests in a big group by the pond."

Linda & Chad

Bride & Groom
"The best part of getting married at Pointe West is the staff! The venue speaks for itself, very well organized, accommodating, and prompt at returning emails. Weddings are stressful enough to plan, but the staff was always available for consult, to bounce ideas off of, and accommodated many additional requests we had for our special day. I am so grateful to have had our wedding in such good hands. It was a particularly stressful time for us due to family medical issues, and I never had to worry about anything wedding related. We were offered reassurance and we are forever grateful to everyone! Additionally, the food is fantastic and the Executive Chef worked with us to accommodate menu changes/suggestions. We truly had a perfect day! We received excellent service and the recommended vendors were also great to work with. Professional, prompt and accommodating. Everything just seemed easy. Seamless, Pointe West is a beautiful venue. It was truly a perfect day for us."

Alyssa & Mike

Bride & Groom
"Dear Pointe West's delightful staff, I want to thank you all for your wonderful hospitality and hard work on the day of my shower. Everything was beyond exceptional! Whenever I asked anyone for something, they did it not only efficiently but with a smile. That night I was a little bit nervous and very overwhelmed with being the center of attention, so I want to apologize if I was a little bit annoying or bossy at times and for that I want to thank you for putting up with me and making me feel more at ease! The next day I got endless text messages from people raving about how much they enjoyed their evening! Pointe West is by far the most amazing venue in Windsor. It is probably the only one who can say they have it all, ambiance, food and service. I hope to have many more of my future events with the club!"

Sevi

Bridal Shower
"I loved the beautiful views and the greenery of the outside surroundings. I liked how we were already familiar with the club and felt really comfortable there. Our guests said that the food was really good and it came out at a good temperature. Everyone was very professional. The food and service from the staff was very good. They book one wedding at a time, you are the only wedding so the focus is on your wedding! The service was professional and friendly. LOVED the late-night poutine snack! I was looking forward to it all night and everyone said they enjoyed it!"

Joanna & Chris

Bride & Groom
"The best part of getting married at Pointe West was the atmosphere and customer service. Our guests felt the vibe we were trying to convey and the staff was happy to ensure we were happy! Our guests said the wedding was beautiful and fun and raved about the food and wedding weeks after the event. Pointe West provides many options and are very flexible with your budget. Whether you prefer individual service or family style, open bar or cash bar, Pointe West is willing to work with you! The Pointe West staff was very attentive, even securing our card box and gifts in their office while we enjoyed the evening! We loved our wedding and would it all over again at Pointe West!"

Devon & Matt

Bride & Groom
Pointe West Golf Club will assist you every step along the way to make sure your day is perfect!